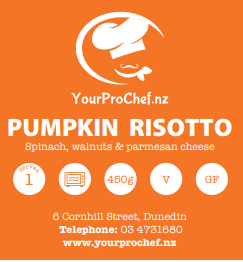 Pumpkin, Rocket & Walnut Risotto
$12.99
A scrumptious risotto bursting with flavour prepared with olive oil not butter but is creamy as ever! Loaded with walnuts and peppery rocket & topped with parmesan cheese. We can made this meal vegan if you contact us to pre-order.
All our meals are all chef made and only prepared in small batches. We have used the freshness ingredients available and prepared your meal with love and care. We believe our meals are the best in quality and value on the market today.
If you are not completely satisfied with this meal, please return it for a replacement meal or full refund.

This is a single serve 450 gram meal.
SKU: 10068